One of the most difficult challenges of my life was the day I placed my Mother into longterm care. Having suffered a traumatic brain injury from which she never recovered, dementia was the result.
As often as I was present in that Longterm Care facility to explain her, advocate on her behalf and monitor her care, it was never enough. On one visit while she was in her bathroom I asked if she needed assistance. "No" she responded, adding haltingly "I still have my honor." "You mean your dignity?" I asked. "Yes" she said, "I still have my dignity" which summarized for me what she experienced day in, day out in that home.  Although dementia patients are common in LTC, they are not always understood.
Is dignity the first casualty of long-term care?
Recently much attention has been paid to long-term care, the result of Covid and its high fatality rate in Seniors. The North American model for institutional long-term Care had been begging for change for a very long time. Covid should not have been the catalyst for a re-think of care for seniors and hopefully it will not end in mere lip service. The subject of dignity and the differing perspectives in Longterm Care between European and North American models are significant.
More successful models of care exist in other parts of the world and could be referenced to improve North American standards. While most European and North American countries have robust long-term care systems, the perspectives of those systems and their care models differ greatly.
Self-Determination and Choice
One key difference is in the matter of choice older people have regarding their long-term care, especially for those with dementia.
In Denmark the governing philosophy is one in which every individual has The right to choose how they want to live. When someone turns 75  they receive a knock on the door from the National Health Service asking what type of assistance they'd like the government to provide. That assistance could include anything from occasional rides to bridge games to regular transportation to dementia daycare centers. Participation in a day center in the United States often depends upon whether the individual can arrange their own transportation, whereas transportation is provided free of charge in some European countries.
In Denmark a senior might choose to reside in a private apartment or perhaps room in a small shared home with other seniors. Significant in this model is that each senior actively chooses the type of help they want, rather than having to settle and resign themselves to whatever is offered.
The programs themselves offer choice. Denmark Day Centers provide opportunities for residents to pursue hobbies. Those who live in a shared home help plan and prepare the meals they eat. In almost all cases, participants have significant options to create their own schedules – getting up, dining, and going to bed when they choose to do so. They are not expected to comply with institutional convenience.
The Denmark home Dagmarsminde stresses accommodating residents in a home-like atmosphere, one which stresses compassionate care and encourages a sense of community. Founder May Bjerre Eiby watched her father lose his enthusiasm for living while in an institutional setting and she vowed to make the existence for other dementia residents more humane.
Eiby believes we have a duty to care for our elderly, one of the most vulnerable and dependent demographics in society.
At Dagmarsminde residents are made to feel they have family, people who will love them and that they still matter in this world.
Dagmarsminde does not rely on typical medications administered for behavioural problems and most residents are on only one medication daily. Their environment is given a sense of normalcy which Eiby says can assist residents in regaining some of their routine behaviors.
Eiby believes the narrative around longterm care and dementia in particular, must change, and she is right. She has worked to establish a new culture: one with few meds but much cake instead.
Who Pays For What?
Many European countries have a national health system  which pays a considerable share of the cost of long-term care. This national system provides different options for individuals, irrespective of how ill or how affluent they might be. On the downside, as the number of aging people requiring care increases, the national health systems of some countries are becoming stressed. Also, governments that provide the most financial support for long-term care typically charge the highest taxes. However, it bears reminding that it was Mahatma Gandhi who expressed that "the true measure of any society can be found in how it treats its most vulnerable members."
Denmark's emphasis is more on home care than placing people into an institutional setting. They will install grab bars in your bathroom if you require them and will deliver meals to you if you can no longer prepare your own.
In 1980 Denmark passed legislation discouraging the development of any new institutional LTC beds and since that date there has been a 30% decline. The Danish model wants people to be cared for in their own homes for as long as possible in spite of their physical challenges.
Compare that to Ontario, Canada's conservative government doubling down on funding institutional space with their Bill 37 and the contrast between the two countries could not be more stark.
In North America, long-term care options are more limited. Most people must self-pay a large share of their long-term care costs and receive substantial government aid only when impoverished. Options, then, are governed by one's personal finances.
Keeping Residents Safe by Locking Them Up?
Significantly, unlike the European model, in North America the focus in daycare, assisted living, and nursing home care is more on the convenience, security issues and structure. Aging adults are not always given the freedom to pursue their own interests or determine their own schedule, thereby diminishing their dignity and individuality.
This emphasis on structure and security in North America is particularly notable in the care of dementia residents where many reside in locked dementia wards. In Denmark, locked wards would be against the law.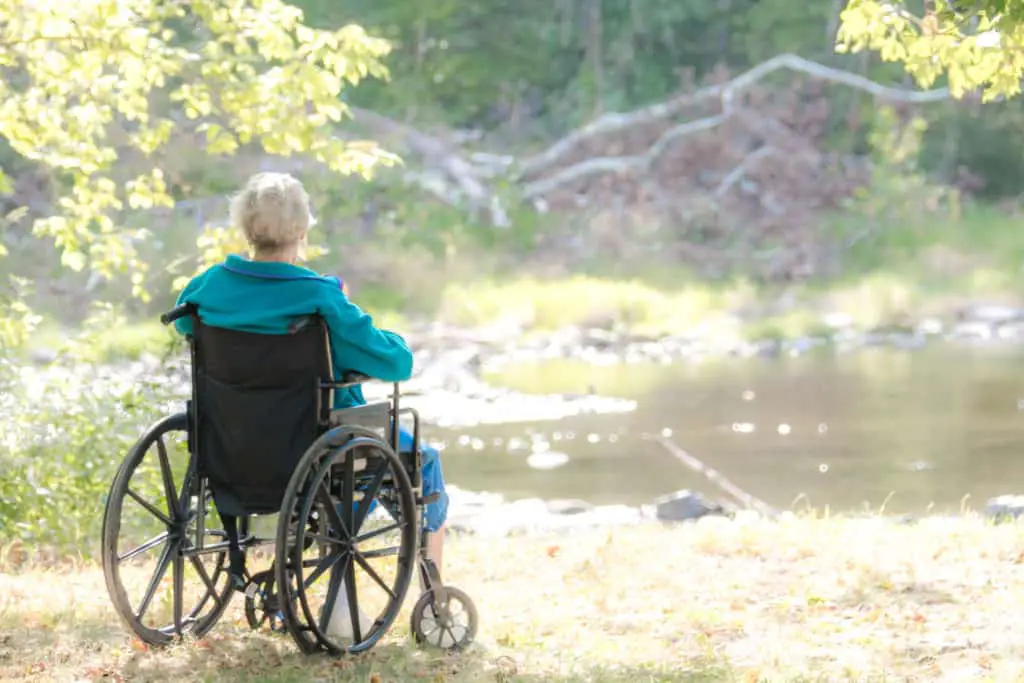 Activity and Social Contact
Activity and social contact are encouraged in continuing care retirement communities (CCCR)both in North America and throughout the long-term care spectrum in Europe. CCCRs on both continents tend to have amenities and on-site services to keep seniors active and healthy.
However, significant differences exist in nursing home care between North American and European models, especially for dementia patients. In the United States, recreational activities and social contact opportunities are provided but viewed as secondary priorities.
In many European countries the opposite is true and physical activity and social contact are considered vital to quality of life. Quality of life is not something stressed in the North American model where control and compliance seem to be the predominant concerns.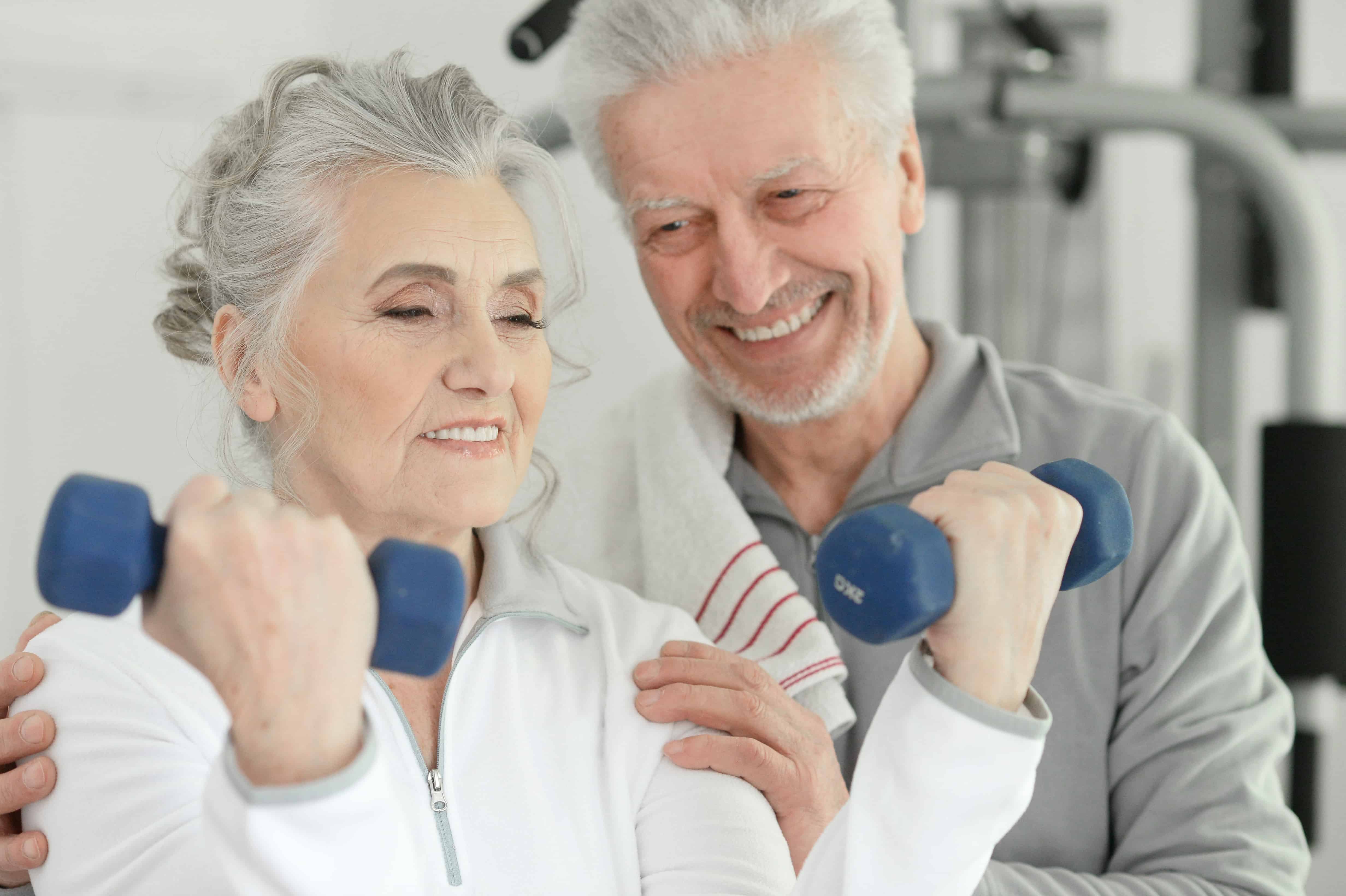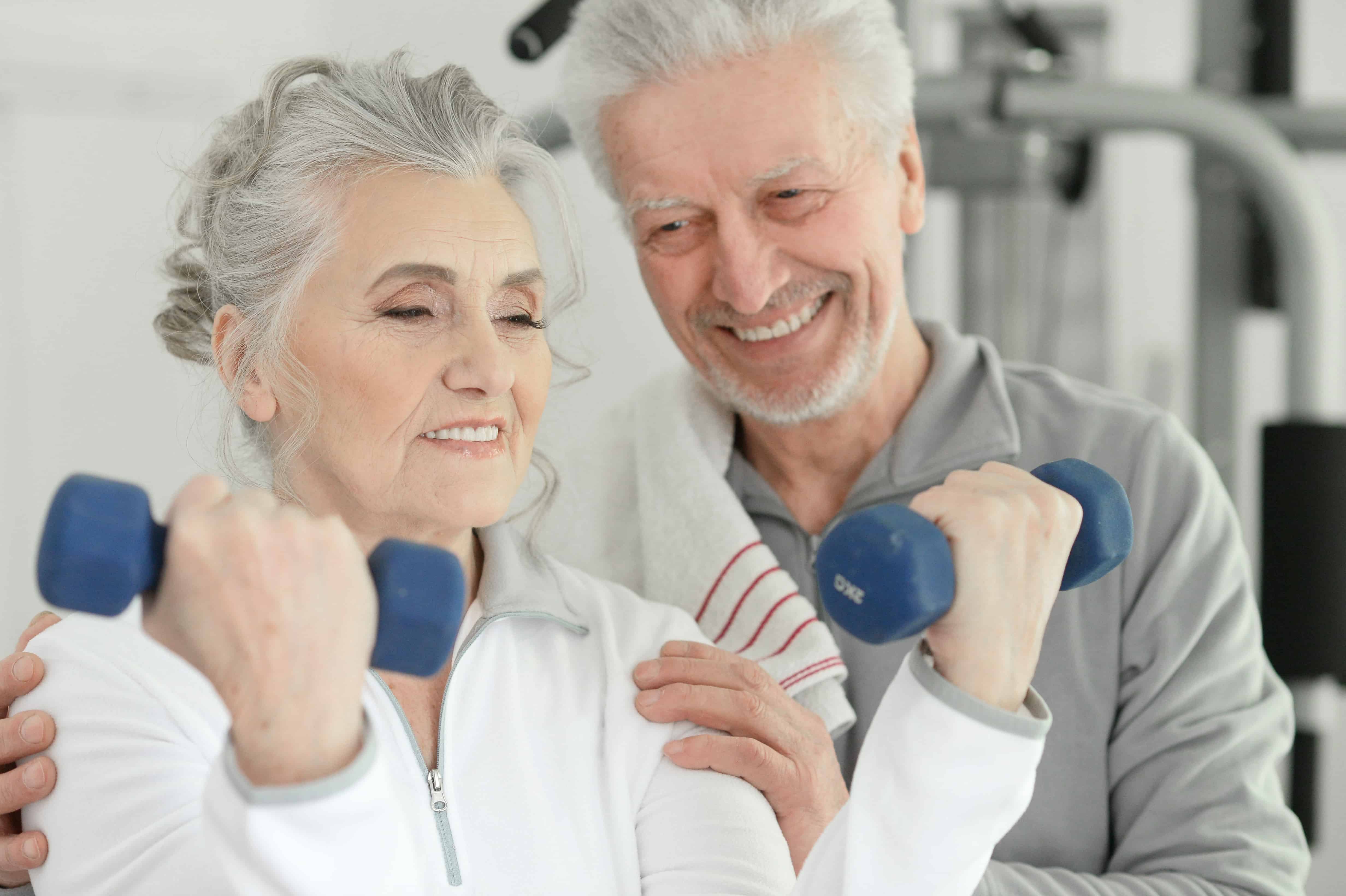 In the Netherlands the town of Hogeway is a dementia care facility the size of 10 football fields but with only about 150 residents. It has its own town hall, theaters, post office, and garden. The residents go about their lives as normally as possible while plainclothes staff monitor their safety.
Another example is Lotte in Denmark. Lotte is a brick home west of Copenhagen where 23 men and women live together like family, sharing meals and taking vacations together. About 70 percent of the residents of Lotte have dementia. The philosophy in Lotte and similar Denmark facilities is that each resident makes a contribution to the community. The residents help one another accomplish various chores and the focus is on enjoying life.
"We make them a home and give them red wine instead of pills," said Lotte's first leader Thyra Frank in the CBC Karin Wells documentary "Its Their Life." " We don't want them to lay in bed. We want them to live life all of their lives."
As a general rule, nursing homes are smaller in Denmark and the Netherlands than they are in North America. The philosophy in more extensive facilities in Denmark is to split residents into smaller groups of seven to eight people who live family-style. They share a kitchen and dining room but have their own private suites with a big bed, sofa, and their own bathroom. This differs from American nursing homes, which are typically larger, don't place residents in family groupings, and serve everyone in large dining rooms.
In Denmark and the Netherlands, older residents are encouraged to exercise daily, especially outdoors even if they have dementia. There are options to bicycle, walk, and run. In most instances, they are not locked in the facility; in fact, as previously mentioned, Danish law forbids locked doors. Residents with dementia can choose to wear a GPS tracker or in some cases a volunteer or staff member will accompany them outdoors. Hogeway uses cameras to monitor movements.
Personal freedom and the opportunity to exercise are prioritized over efforts to secure residents. This emphasis on daily outdoor exercise and freedom over security differentiates long-term care in some European countries from that of most North American models.
Are There Consequences in the Granting of Freedom Over Security Concerns?
Although Danish experts assert that exercise improves blood flow to the brain, prioritizing freedom over security is not without some risk. In one home, a senior broke his leg, but at least his spirit was intact. Another was lost for three days, not being located until he couldn't pay his bar bill.
Hogeway residents require fewer medications, have better appetites, live longer, and appear more joyful than seniors in more institutional settings.
Some Danish nursing homes report that fewer patients require heavy medication after their care model transitions to more family-style living. Aggressive behaviors typical to dementia residents are reported to be notably minimized.
As more people begin to age, each culture evolves and redefines its perspectives on long-term care. Managing behaviors with psychotropic drugs must be revisited because of the side effects of those very drugs and because they have not proven to be effective in the longterm. It goes without saying that frustration levels would tend to be higher where residents' movements are governed by institutional restrictions and institutional convenience.
The European model stresses respect for the individual and provides them with options. One of the major depressants for dementia patients is their sense of loss of control. Frustration levels seem to be lower in settings where pleasant existence is emphasized, both for those being cared for as well as for their caregivers.
In the Lillevang community built in 1998 residents keep their cars in the parking lot whether or not they are driven. Even when they can no longer drive, some like to visit their vehicles and clean them. Healthcare workers at Lillevang always work with the same small group of residents,  ensuring consistency of care and reducing the risk of infection – especially important in times of a pandemic.
Lillevang residents live in self-contained family units. each resident occupying an individual unit of approximately 400 sq feet, each with its own patio garden. There is a communal area in each family pod where meals and other activities are held. Cooking is done in a commercial kitchen and then transferred to the various unit kitchens.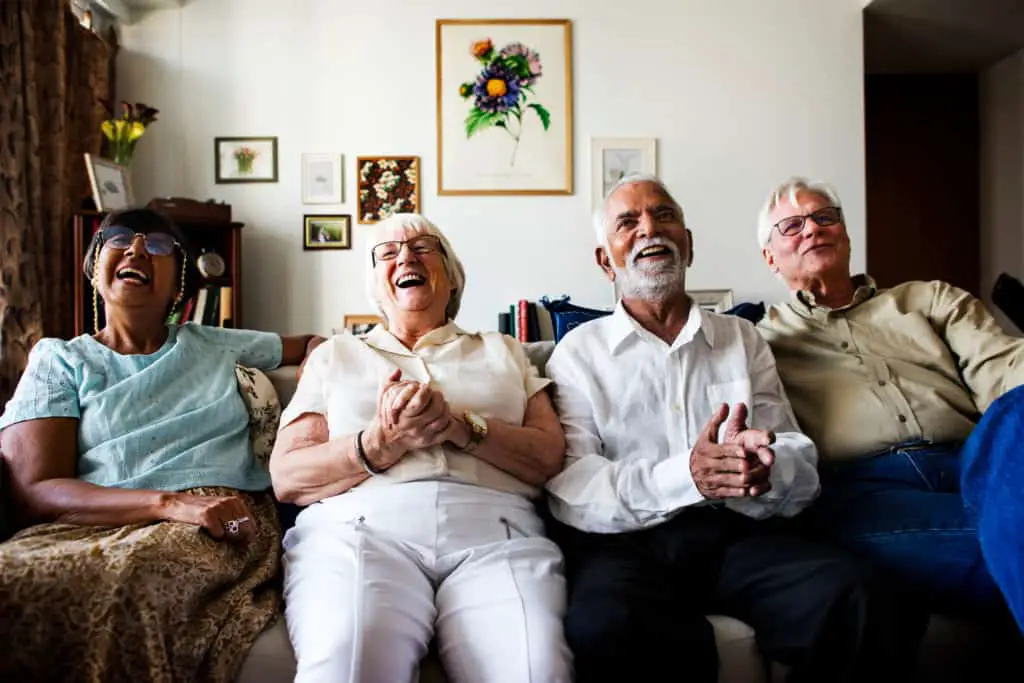 Residents are billed for housing and food costs while the Danish government pays most other costs and subsidies are based on an individual's ability to pay.
Progressive Movements in North America Are Taking Shape
One culture change in the United States encourages movement toward a person-centered concept, more similar to that of Northern Europe. The person-centered concept favors resident-directed care and activities, a home environment, and building relationships with staff, family, and residents. This is a good start.
Geriatrician Dr William Thomas developed the "Green House Model"  based on a "household model" of care which consists of clusters of homes with 8-10 residents residing in each. Funding is assigned to each individual who then chooses how to use the money within certain guidelines.
The State of New York has implemented "Doors Open" whose intent is moving away from institutional care to community settings such as houses, apartments and group homes. Encouraging news was President Biden's commitment to end institutional bias in the Medicaid program, instead expanding home and community-based services to seniors.
Canada could do much more for homecare. While Denmark spends 2% of GDP on home care models, Canada's expenditure is 0.2 % of GDP, the second lowest allocation in the OECD.
Social Action Ontario states that under the current institutional model, the cost to house a resident is $187 per day. While PSWs are currently unable to provide three hours of care, $187 per day in a less institutional setting would provide a better level of care for residents. In the home where my Mother resided for over a decade PSWs were run off their feet with a worker to patient ratio of 17:1. This was hardly acceptable but management was all about profitability and keeping shareholders happy.
The Ryerson think tank National Institute on Ageing has proposed longterm care at home which would cost $122.78 per day per client, much less than institutional LTC. This program would include Meals on Wheels, transportation and day programs. Also included would be visiting services for socialization, home care, primary care and assistance from community paramedics. The Ageing report cites that between one in nine and one in five seniors currently in LTC would thrive with home care, a far more appealing option – and less expensive.
Then there is the issue of compensation for those family caregivers taking the load off the system. How can they be compensated? According to the Ageing Well report, Swedish caregivers are paid a taxable salary equal to what the local municipal home care worker receives. There is also an "Attendance Allowance" available to family members who are the caregivers, equivalent to about $825 per month.
Although Canada offers caregiver benefits and medical leave, these benefits do not come close to equalling lost income, the result of caregiving. Seniors for Social Action Ontario have argued that these allowances should be increased to equal the cost of care in a LTC home.
In Kingston, Ontario, innovation in care for seniors began over a decade ago under an initiative called Oasis. One landlord owned a building largely occupied by seniors and decided to provide room for a lounge and communal meals. Members visited the lounge for morning coffee and camaraderie and could receive up to 3 subsidized dinners per week prepared and served by local volunteers. This program was copied by a few more sites in Kingston, London and Hamilton. The cost to seniors is $10/day per person and it is thought the benefits of socialization and exercise programs offer deferred entry to longterm care facilities. This program depends upon the participation of a supportive landlord, volunteer board of directors and a paid coordinator at each site. Benefits accrue not only to residents but to the landlords as well who reap the benefit of lower tenant turnover.
The issue of seniors and social isolation has prompted some educational facilities to entertain an intergenerational facet to their institutions. Trent University and peopleCare Communities, a LTC company have partnered to build a 224 bed home that will be an integrated seniors village on campus.. Leasing the land from the university means there is no land purchasing cost.  Academic experts at the Trent Centre for Aging and Society will be situated as neighbours to this home. Plus nursing students will be placed in the home as part of their education practicum. This is a win-win partnership which can produce new research and progressive ideas as to the care of the elderly.
peopleCare also sponsors a program out of Western University where graduate students in music are placed as musicians-in-residence at another of its homes in London, Ontario.
These innovations are partnerships formed for the betterment of our society and providing care for one of our most vulnerable demographics.
The need for revolutionary change to LTC communities in North America if pressing, is possible, but taking far too long to evolve.
Challenges specifically in the care of dementia patients are unrelenting. Hopefully with some compassionate political will, progressive policy change can result in more humane outcomes. Quality of life, even in the last chapter should matter. What works in Denmark and the Netherlands can work just as well in North America. We just have to make it a priority and care enough to make it happen. And it appears that change is getting some traction even in small ways.
Like my Mother, seniors needing care should not be expected to surrender their individuality and dignity at the door of our current longterm care system.