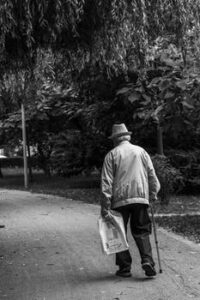 As we age, our Mobility takes on increasing importance. No one wants their ability to move about compromised, much less lose it entirely.
One of the most upsetting issues affecting seniors and usually one of the first things to impact mobility is the loss of one's driver's license. Governments have taken notice that seniors are now the demographic most involved in vehicular accidents as well as the age group most likely to die as a result of one. Seniors' mobility issues are a major concern both for seniors and for society at large. Why is mobility important for seniors? And what are the psychological effects of losing one's mobility?
Losing That Driver's License
Over the objection of seniors, testing is becoming mandatory in an effort to protect the public as well as the life of the senior driver. Barring an actual accident, it is usually a concerned family member speaking to the family doctor which will result in the physician either registering his recommendation for denial of a license or advocating that a license holder be tested.
Requirements for testing are usually based on cognitive concerns. Once a decision is made that it is dangerous for a senior driver to remain behind the wheel, it is usually binding and most people who fail to pass a driving test will ultimately resign themselves to losing their license. However, losing the option of just hopping into one's vehicle and heading out can be crushing because dependency is not something any of us anticipate without a keen sense of dread.
Other Mobility issues for seniors can begin with:
difficulty walking
ascending or descending stairs
 standing from a sitting position
getting into or out of bed
Mobile aids may become a necessity when pain, weakness and balance become issues. Denial that we require certain aids can be dangerous because falling is something seniors want to avoid. Broken hips, broken legs or broken ribs can create numerous other complications which are entirely avoidable. But there are tools and aids to prevent the worst from happening.
Alzheimers & Dementia Present Their Own Mobility Issues for Seniors
Alzheimer's and Dementia present their own mobility challenge, falling being just one of the unfortunate consequences of either condition. People with dementia are 8 X more likely to fall and 3X more likely to break a hip falling than would a senior without a diagnosis of dementia.
Mobility Solutions for Seniors
Mobility products for seniors were created to help seniors retain some measure of independence and these aids might include:
walking canes
walkers with resting seats
wheelchairs (manually operated or battery powered)
the popular scooter which can almost replace an automobile in terms of its range and functionality: shopping for groceries, taking a ride along a nature trail, or getting out into the fresh air to attend local events.
Stairlifts are becoming increasingly popular as seniors opt to remain in their homes where stairs present special hazards. You can sit and ride up or down eliminating the hazard of tripping or falling.
Dealing with Stigma, Resistance and Ambivalence
There appears to be stigma attached to requiring mobile aids. To their detriment, some seniors deny their need for them. A serious fall could render them bedbound, making mere stigma pale by comparison. Mobility aids are seen by many to be associated with aging and physical decline rather than as enhancements to independence and autonomy.
Negative biases prevail with people not wanting to be seen as crippled or deteriorating or someone for whom life's options are disappearing.
Some seniors don't want to be seen as dependent on aids, similar to one's denial that you don't need glasses until you find yourself lost and unable to read the roadmap or the GPS. I can personally attest to that situation.
The interesting thing about mobility aids is that although there is a stigma associated with first-time use, acceptance and/or reliance on assistive aids increases with usage, with subsequent graduation to other aids. Interpreting mobile aids as enhancements to independence encourages their acceptance.
Equally noteworthy is that seniors are less resistant when their aids have a sporty appearance and something they can employ almost as a fashion accessory; power wheelchairs in addition to being easier to use are more attractive than the manually operated chair. And scooters are another step up to looking sporty. Who hasn't witnessed a fully decked-out scooter with country flags flying, making its way to the nearest grocery store, its driver looking upbeat and enjoying every moment of the mobility and accessibility provided by this mode of transportation?
Cost of Mobile Aids
Government assistance may be available for the provision of mobility aids, based on the client's ability to pay. In Canada, Veterans Affairs may supply mobile devices to veterans at no charge. It does not necessarily fall to the person needing the aid to have to pay for it partially or fully.  In Canada, seniors need to check their local government webpages under Health Canada to determine if they qualify for a subsidy.
 Exercise Can Reduce the Need for Mobility Aids
Never underestimate the benefits of exercise because as the saying goes: an ounce of prevention is worth a pound of cure. Seniors who commit themselves to remaining active are at an advantage when it comes to issues of balance and mobility.
You Can Delay Dependence On Assistive Devices by Engaging In the Following:
Swimming and the buoyancy it provides gives the body an excellent workout without stressing the joints.
Using an elliptical machine enables cardio without taxing the joints.
Walking is a non-stressful weight-bearing exercise which can help ward off osteoporosis in addition to clearing the mind.
Yoga, in addition to reducing anxiety, enhances flexibility and range of motion. Low impact yoga provides the benefit of movement without the strain, as well as the prevention and slowing of bone loss. Some studies even conclude yoga actually assists the body in gaining bone.
Resistance training has proven beneficial in increasing strength and weight management and if done properly raises the metabolism and builds muscle. When you build muscle you burn more calories. Strength training is also credited with glucose control for diabetes in addition to reducing the symptoms of osteoarthritis.
Tai Chi with its flowing movements and weight shifting improves posture as well as balance. Studies show that Tai Chi is more effective than brisk walking for exercising the heart and is credited for reducing cardiovascular risk factors. Not only that, but Tai Chi helps improve bone density and joint stability. The numerous benefits of Tai Chi also include its stretching and strengthening of muscles.
Active engagement in all these exercises can render seniors healthier and should postpone or prevent reliance on the need for mobile assistive devices.
The Benefits of Mobility Aids for Seniors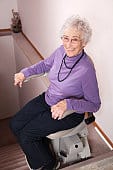 When exercise is insufficient to stave off mobility issues, mobile aids are there to provide options: enabling seniors to age in place – at home, instead of moving into a care facility. The autonomy provided in the use of assistive devices far outweighs their perceived stigma. Who wouldn't want to live at home as long as possible?
Mobile aids assist us to move more – and moving more is an investment in our independence. These aids can offset the psychological effects of any loss of mobility.
Disclaimer: You must not rely on the information on our website as an alternative to medical advice from your doctor or other professional healthcare provider